Starting at $21,500 and recognized as the best-selling Nissan in the line-up, the Altima continues to be offered with 2.5-liter engine with 182 hp and 180 lb-ft of torque, as well as a 3.5-liter V6 with 270 hp and 258 lb-ft. While changes to the engine aren't dramatic, updates to the transmission come with 70 percent of the continuously variable transmission (CVT) components being redesigned with an expanded gear ratio, while friction has been cut by 40 percent to help free-up horsepower.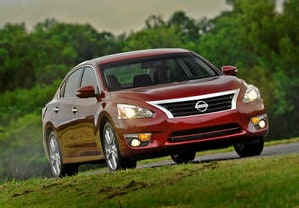 As mentioned, there's an impressive 38 mpg highway number on the 4-cylinder; better than any other non-hybrid mid-size sedan. City mileage is also impressive with a 27 mpg rating. As for the V6, you'll get an estimated 22/30 city/highway mpg.
Helping both the fuel economy and performance of the car is a lighter body that's more rigid too. The use of high-strength aluminum steel helps cut a total of 79 lbs from the new Altima.